Share gains for Premium+ Spirits and this year's unprecedented World Cup will make for a record-breaking Christmas and Pernod Ricard UK has an unrivalled portfolio and new limited-edition bottles to ensure 'It's Coming Home!"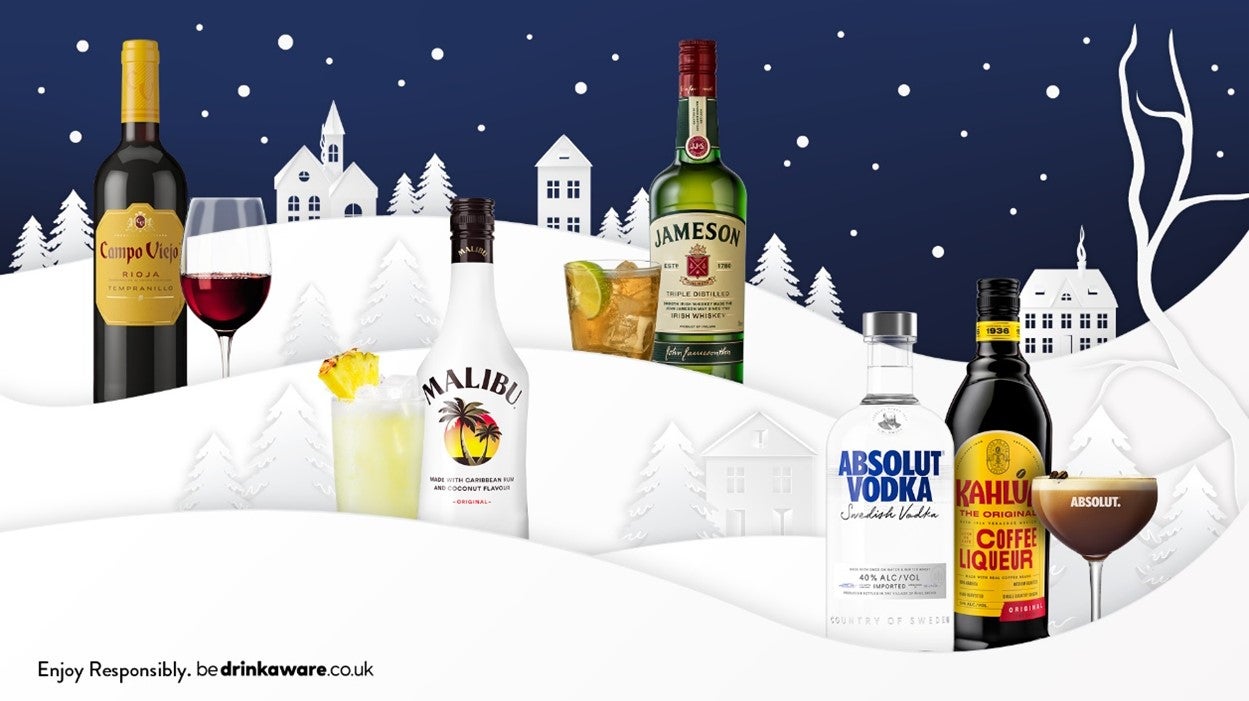 Christmas 2021 was billed to be a huge occasion until a new variant of COVID kept people at home in small groups, once again. Pernod Ricard UK predicts this year will eclipse any forecasts for last year's big come back due to large gatherings with friends and colleagues finally getting the green light and the first-ever winter World Cup fuelling an increase in at-home conviviality.
This year still has its challenges with the UK facing rising energy bills, inflation and increased costs of living. Within this context, however, the Premium+ share of Spirits has remained higher than pre-pandemic even in such a challenging environment[1]. For consumers, Christmas 2022 is likely to be a balance between enjoying a truly 'free' Christmas and managing less disposable income.
Great Drinks
The appetite for cocktails-at-home remains high, with Hot Toddies seeing the greatest evolution during Christmas 2021, along with the Spritz and Espresso Martini[2]. To inspire consumers and drive cocktail ingredient sales, Pernod Ricard UK is launching a brand-new YouTube channel dedicated to bitesize content that can be easily followed at home. Launching in November, the YouTube channel will feature fun, festive tutorials of how to create the most-searched winter cocktails including an Absolut and Kahlúa Espresso Martini and The Glenlivet Hot Toddy. Branded social media content will also be available to retailers for use on their own social media channels to educate and inspire shoppers before they are in-store.
Chris Shead, Off-Trade Channel Director for Pernod Ricard UK, comments: "The long-term premiumisation trend is a resilient one with people drinking less but better and, as they do, engaging more with what they're drinking, paying more attention to wine pairings and enjoying more cocktails. During tough economic times, people still choose to purchase little luxuries to treat themselves and wine and spirits is an area where people traditionally spend more to treat themselves or others. In the Off-Trade, we will see some trade-down, however, people will also trade up when staying in to make the occasion more special. For these reasons, we're optimistic about this Christmas. We have the right portfolio of Premium Spirits for cocktails and gifting, as well as perfect range of Premium+ wine anyone would be happy to gift on Christmas day or take to a festive celebration."
Festive Footy
The World Cup will make this Christmas different to any other, driving new drinking occasions in and out of home. Just under half of shoppers think their usual Christmas behaviour will change due to the World Cup, with 45% of shoppers interested in watching the tournament with friends and family3.
When football is at its best, it brings people together like nothing else. In celebration of the World Cup, Jameson has put together the 'Dream Team' of football fans' personalities and brought these to life through a brand-new limited-edition bottle range. Each of the five bottles within the range features a unique, vibrant football shirt and will be supported by a £1m media campaign across digital, social, PR and in-store. Launching in October across Grocery and Convenience, The Jameson United Dream Team is the perfect accompaniment to the World Cup this December.
Gifting
60% of shoppers will give alcohol as a gift this Christmas and 40% are looking to treat friends and family despite economic pressures[3]. Those willing to spend are looking for indulgent treats and to celebrate. With more people expecting to spend Christmas with a larger group than in 2021, they're also more likely to buy spirits and wine as gifts[4]. Chivas 12 and Jameson Black Barrell offer the perfect gifting solution to give as gifts, as well as Stoneleigh, Leaps & Bounds, Jacob's Creek Double Barrel, Campo Viejo Gran Reserva, Cafayate Estate and new Castillo de Ibiza wines consumers will be proud to take to a festive drinks party. Launching in November, Havana Club 7-Year-Old is also getting a festive makeover with a new Black and Gold Limited-Edition bottle, which features a metallic screen-printed finish.
Pernod Ricard UK is advising retailers to expect four key trends this Christmas:
Growth in at-home group socialising

Increased budget control, shopping lists and less spontaneous purchases

Investment of time to make drinks special, using up owned ingredients
Retailers can make the most of these by considering the following Top Tips:
Invest in secondary promotional space to ensure Premium Wine and Spirits, with better margins, are not overtaken by beer during the World Cup – it's important to inspire incremental trade up and gifting purchases

Ensure best-in-class online presence to encourage repeat visits to store

Call out cost-per-serve in recipes either displayed in-store or on social media