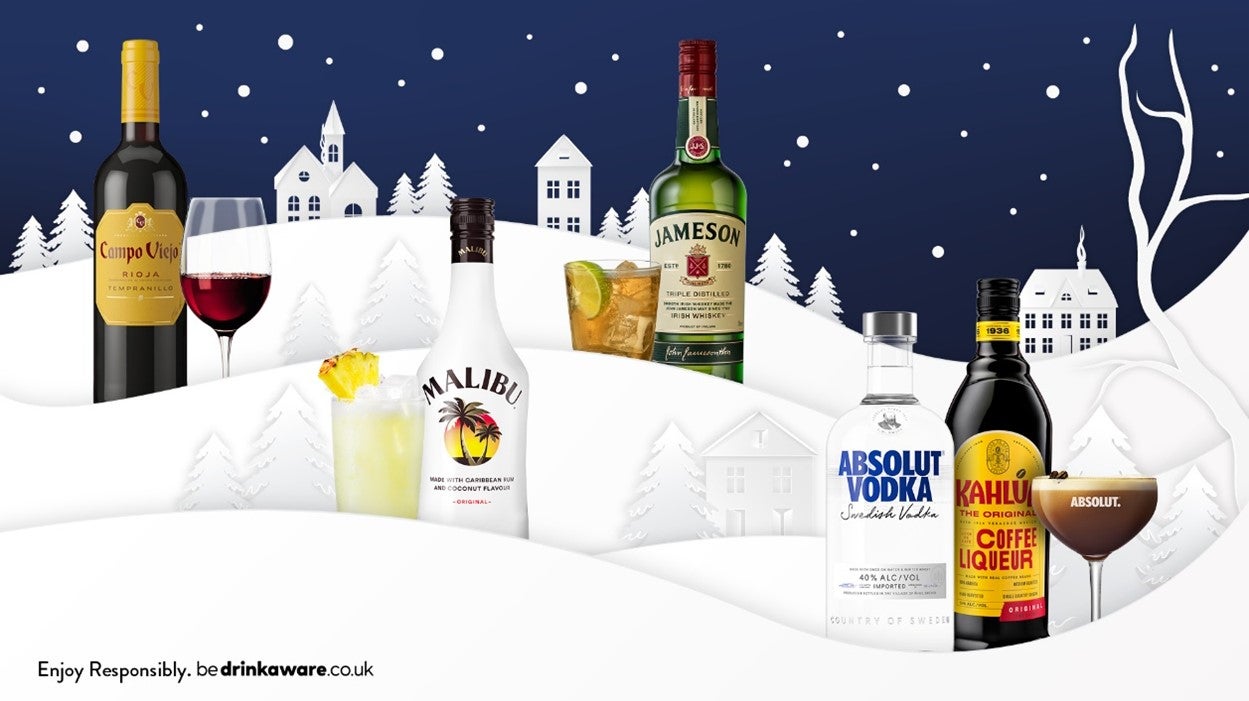 Pernod Ricard UK is predicting this Christmas will be bigger than ever as friends come back together for a season of celebration, and is supporting with record investment in elevated serves and exciting experiences. Festive twists on favourites and creative cocktail masterclasses will be key levers to driving incremental spend over the Christmas period, and Pernod Ricard UK will be supporting customers in making it memorable through pre-planned premium experiences, as well as football activations tapping into the World Cup occasion to drive footfall.
Celebration Season
This Christmas will be the first opportunity consumers have had for three years to celebrate with their wider social circles during the festive period. December features four weekends before Christmas, offering plenty of opportunities to get together with friends and colleagues and resulting in more high-value occasions to socialise such as the return of work Christmas parties and the 2022 World Cup.
Winter will not be without its challenges as the cost of living impacts spending power. Consumers are likely to avoid purchasing big ticket items, but will continue to treat themselves to everyday luxuries like drinks with friends, with 53% of consumers planning on spending the same or more this Christmas[1]. Pernod Ricard UK is encouraging the On-Trade to offer accessible trade-up options in key growth categories such as cocktails, Vodka, Rum and Gin[2], to capitalise on the demand for Premium Spirits.
Spirits are in 7% volume growth vs. the same period pre-Covid[3], meaning £1 in every £3 spent in the On-Trade is now on spirits[4]. The price consumers are willing to pay for a cocktail also continues to rise with spend averaging £8.95 (+£2.18 vs Q1 2019)[5]. 53% of consumers are 'very likely' or 'likely' to pay more for a better quality drink during the festive period than other times of the year[6], therefore focusing on Premium Spirits and cocktails will be an effective way for operators to maximise spend per head.
Planned Premium Experiences
Increased planning as a result of pandemic experiences will be a feature of Christmas 2022. More than ever, younger consumers are organising their On-Trade visits and drinks in advance, or deciding where to go based on digital menus and social content, highlighting the importance of Premium options being visible online. Over a third (37%) of operators have also reported an increase in 18-34 year olds in their customer base, so attracting this age group will be key to securing spend as they account for 55% of cocktail drinkers[7].
To support the On-Trade, Pernod Ricard UK is offering cocktail masterclasses in customer venues through its leading spirits brands including Absolut and Malibu, to help consumers learn from experts whilst also discovering how to add some festive touches through gingerbread and marshmallow decorating. Targeting younger affluent consumers who pre-plan with premium options will give operators the opportunity to guarantee spend this Christmas.
Elevating Established Serves
Cocktails will be key to driving spend this Christmas with the category demonstrating double-digit rate-of-sale growth[8] since the On-Trade reopened, as at-home habits have brought more consumers into cocktail consumption. Eye-catching garnishes and distinctive serveware will give consumers a compelling reason to visit the On-Trade and Pernod Ricard UK has created a range of showstopping solutions to inspire consumer choice and create value.
72% of consumers find festive serves appealing[9] so adding a seasonal twist to established serves will have high appeal. Pernod Ricard UK has developed a range of festive serves* to capitalise on these consumers' preferences, and will be adding Christmas seasoning to over 100,000 cocktails this year with edible glitter dust and bespoke garnishes to elevate established cocktails and add a festive Instagram moment. Absolut and Kahlúa branded multi-serve sharer trees will also be available, holding up to eight glasses to display martinis and can be used as a pre-bookable sales driver.
James Bremner, On-Trade Channel Director at Pernod Ricard UK, comments: "This Christmas will be more important than ever as friends reunite and look for ways to make the time spent together more special. After two years of cancelled corporate spend, employers will likely invest in boosting morale and the work Christmas party will return in force. Despite the challenging economic outlook, 2022 can still be a big Christmas with there being eight Fridays and Saturdays in December to boost trading and the winter World Cup set to drive footfall into venues. 46% of consumers don't watch sport on live TV,  representing a big opportunity to cater to their tastes in venues that won't be showing the football[10], and we are supporting operators with festive serves and premium experiences that will entice consumers to trade-up, and help venues capitalise on the premium opportunity to drive spend."
Marketing Investment
Having been kept apart from friends over Christmas last year as Omicron reared its head, consumers are going to be looking for more ways to make the time spent with loved ones that bit more special and celebratory in 2022. Pernod Ricard UK will be driving footfall into On-Trade venues through its brand channels and a partnership with online platform Fever, to amplify brand events and experiences taking place in partner venues, making it easy for consumers to choose where to celebrate Christmas this year. To further drive awareness of its premium portfolio, Pernod Ricard UK is investing in above-the-line advertising spend with campaigns going live for brands including Absolut, Malibu, Kahlúa, Jameson and Plymouth in the lead up to Christmas.
Sustainability Support
83% of UK consumers now expect food and drink brands to engage on at least one of four areas of sustainability; sourcing, packaging, carbon or fundraising, and Pernod Ricard UK is giving back to the environment by planting up to 40,000 trees for every Absolut cocktail sharing tree sold. The activity will be communicated to consumers through menu presence, on social media, as well as customer websites to drive awareness.
Pernod Ricard UK's Top Festive Serves 
Christmas Star Martini

Ingredients

50ml Absolut Vanilia

12.5ml Passionfruit Puree

12.5ml Cinnamon Syrup

25ml Orange Juice

25ml Pineapple Juice

25ml Prosecco served on the side

Garnish

Star Anise

Edible glitter dust

 

Method:

Shake ingredients over ice, double strain into glassware

Christmas Coffee Martini

Ingredients​

50ml Absolut

10ml Spiced Syrup

25ml Kahlúa​

25ml Espresso

Garnish​

Gold coffee beans

Edible glitter dust

 

Method​:

Shake ingredients over ice, fine strain into glassware

Malibu Hot Chocolate

Ingredients​

50ml Malibu Original

150ml Hot Chocolate

Whipped Cream

Garnish​

Marshmallow

 

Method​:

Build ingredients in a heatproof cup

Cubano Caliente

Ingredients​

35ml Havana Club Cuban Spiced

10ml Cinnamon-Demerara Syrup

200ml Cloudy Apple Juice (Warm)

2 Dashes Angostura Bitters

Garnish​

Apple fan

 

Method​: Combine ingredients in a heat proof glass

Mince Pie Punch 

 

Ingredients​

100ml Beefeater Rhubarb & Cranberry Gin

100ml Beefeater Blackberry Gin

150ml Red wine

75ml Funkin Blackberry Purée

100ml Funkin Pure Pour Lemon

100ml Funkin Oleo Saccharum

 

​Method​: Build in a bowl over ice and serve garnished with seasonal fruits and berries