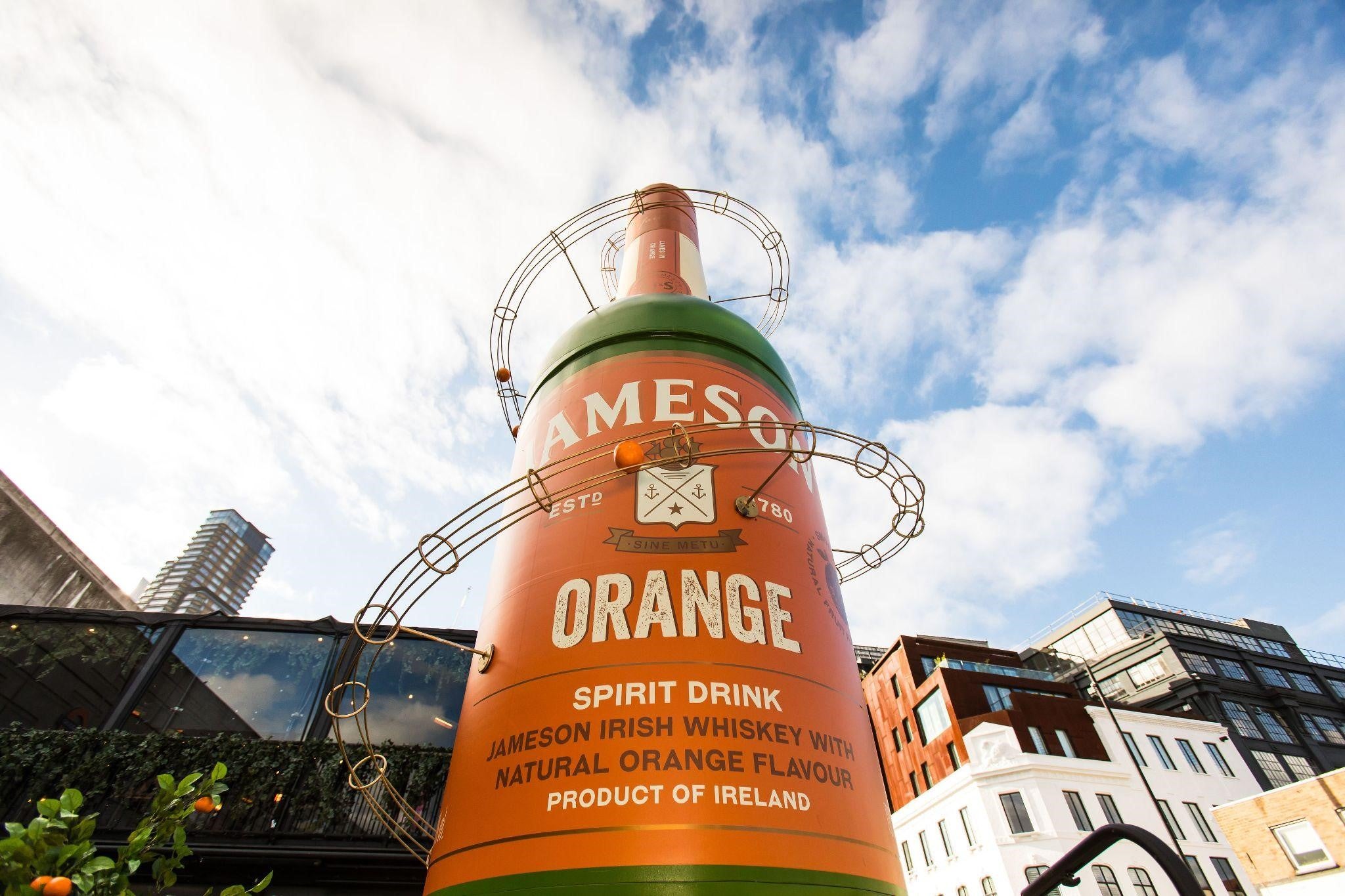 MARCH 2022, LONDON - BOXPARK, the award-winning food and events venue, has announced Pernod Ricard UK as its new spirits pouring partner and brand sponsor to support its famous events programme. 
Premium spirit brands within Pernod Ricard UK's portfolio, such as Havana Club, Beefeater, Absolut, Jameson, Malibu and Chivas Regal, will now be available to consumers at BOXPARK bars across its London venues (Shoreditch, Croydon and Wembley). The wine and spirits company will have pouring rights at BOXPARK bars until 2024.
The partnership will drive On-Trade sales for Pernod Ricard UK as it looks to raise awareness of its premium portfolio of brands by offering real-life experiences for consumers, kicking off with a Whiskey Wheel activation and drinks promotion by Jameson Orange at BOXPARK Shoreditch which launched on St. Patrick's Day.
As part of the collaboration, Pernod Ricard UK will amplify BOXPARK's events and brand campaigns throughout the year, focusing on joint core themes around inclusivity, diversity, music, arts and culture. The partnership will give Pernod Ricard UK the opportunity to sponsor existing flagship events at BOXPARK and to host branded events at the venues.
Together, BOXPARK and Pernod Ricard UK will create rich content and leverage relationships with emerging talent, artists and culture partners to deliver immersive events, including weekly DJ sets, live gigs and drink specials.
The partnership supports Pernod Ricard's commitment to investing in promising, aspirational brands, such as BOXPARK, which puts culture, sustainability and people at the heart of the business.
BOXPARK COO Ben McLaughlin comments on the partnership: "We are thrilled to have Pernod Ricard UK on board as a new partner and believe there is a strong synergy between the brands. Through our exciting new house pour selection of premium spirits and their support on upcoming activations and events, together we can create memorable moments and immersive experiences for our customers. Furthermore, the partnership demonstrates the constant innovation and ever-evolving nature of our business as we aim to put cultural trends and consumer behaviours at the forefront of what we do at BOXPARK."
James Bremner, Pernod Ricard UK On-Trade Channel Director comments: "We are delighted to be partnering with BOXPARK to offer consumers our range of premium spirits and exciting brand experiences, reflecting Pernod Ricard's ambition to create moments of conviviality. Last year's Jameson Orange activation at BOXPARK Shoreditch was a huge success and it was clear that our approach to collaboration and our values are aligned. We're looking forward to what we hope will be a long-term partnership as we look to lead the way in cultivating innovative experiences."
-ENDS-