New limited-edition bottle to launch exclusively in convenience stores in July for one month, ahead of nationwide rollout
Above-the-line campaign champions corner shops and local communities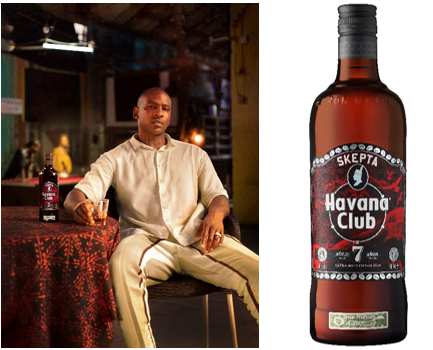 Havana Club and Skepta are back with another creative collaboration that sees the UK grime and hip hop artist design his second limited-edition Havana Club 7 bottle to accelerate the brand's growth and recruit young adults. The partnership continues the message of community championed during last year's collaboration, and is a celebration of Skepta's Nigerian heritage and Havana Club's Cuban roots.
Havana Club recognises that there has never been a better time to support local businesses. Following the success of last year's campaign, the new limited-edition Havana Club 7 bottle will drop exclusively in corner shops from 1st July, serving local communities first. The brand is increasing the number of bottles produced to 60,000 and this year's design embraces Skepta's infamous red and black colourway, which can be seen in his album artwork, music videos and stage performances.
Inspired by Skepta's Yoruba chieftaincy, the exclusive bottle label has been designed to emulate the rich culture of Nigeria and Cuba, binding them together through Skepta's creative vision. Adire, a traditional Yoruba textiles pattern, is seen on the label's background, and the perimeter of the label is lined with imagery of cowrie shells found in Cuba, which are foiled to increase visibility. The texture behind the Skepta icon, which is adorned in his chieftain headdress, is also inspired by the parallel notches on the güiro instrument played in Cuba.
Alongside the release of the limited-edition Havana Club 7 bottle,  Skepta and Havana Club have also curated a campaign film of Skepta on his journey from London back to Nigeria to explore the story of his Yoruba roots, continuing the journey of discovery which begun in Havana, Cuba last year. Travelling from Ogun State to Lagos and the renowned New Africa Shrine, this campaign video specifically celebrates Yoruba culture, both traditional and contemporary, a culture that Skepta, Cuba and Havana Club all share. View the video here: https://youtu.be/tDmwU0FY55g
Marnie Corrigan, Brand Director at Pernod Ricard UK comments, "In a year that has been incredibly tough for many, Skepta and Havana Club continue in their empowerment of local businesses. The corner shop once again plays a key part in the campaign by debuting the second edition of this collaboration as for local residents, these stores are more than just places to buy goods, they are familiar checkpoints at the heart of every neighbourhood playing an integral role within the community. Last year's exclusive collaboration of 36,000 limited-edition Skepta Havana Club bottles sold out in just six weeks, recruiting a younger audience into the brand, and we're confident this campaign will solidify Havana Club 7 as the cult spirit brand for Generation Z."
The launch will see in-store activity taking place at five branded retailers across London and Birmingham in July, and an Out-Of-Home and digital above-the-line campaign running from August. Havana Club has developed a range of POS materials to disrupt the shopper journey and drive rate of sale. Retailers listing the limited-edition bottle will also be part of a footfall driving campaign where consumers are geo-targeted with details of the bottle's nearest stockists.
Rum is the second-fastest-growing spirits category, and Havana Club is experiencing double-digit value growth in the Off-Trade (64.9%)[1], whilst Havana Club 7 is growing 228% in impulse stores year-on-year[2]. The limited-edition bottle will exclusively launch in convenience stores across the UK for one month from 1st July, to embrace and support the retailers who are the cornerstone and heart of communities, before rolling out nationwide at an RRP of £24.99. It is available at major wholesalers including Parfetts, Bestway and Dhamecha.
 
[1] AC Nielsen | Total Rum | MAT value to 27.03.21
[2] AC Nielsen | Total Impulse | Golden Rum | MAT value to 27.03.21