Beefeater, The World's Most Awarded Gin [1], is bringing to life The Spirit of London for 40,000 festival-goers with an immersive tube journey through London's eclectic history of music.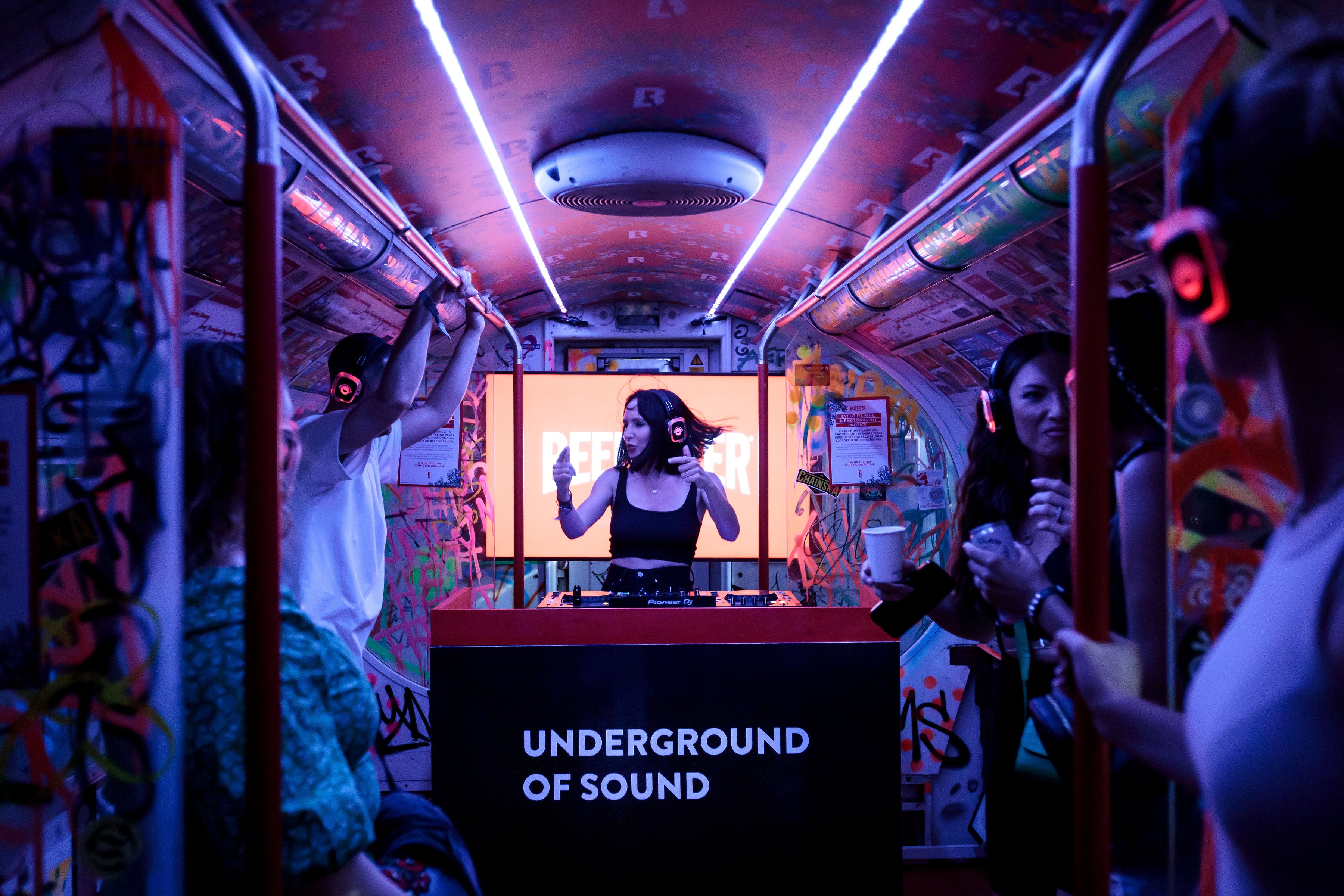 Beefeater has built a true-to-size London Underground carriage at Luno presents All Points East to bring The Spirit of London to life at one of the capital's biggest outdoor music festivals. Along with a full-service bar, which will offer Beefeater London Dry, Beefeater Pink Strawberry and Beefeater Blood Orange Gin & Tonic's, the pièce de résistance is an immersive consumer experience: Underground of Sound.
Beefeater's Underground of Sound celebrates the London Underground and how it links all Londoners by both location and history. Guests will be welcomed by high-energy performers as they enter the carriage and depart the 'platform' on a journey through the very best of London's music scene. From spinning disco tunes in Vauxhall to carnival vibes at Notting Hill, the DJ will deliver a dynamic set list via Silent Disco headphones and guided by a train operator tannoy. Finally, as guests arrive at their destination (Luno presents All Points East), the lights switch off to reveal glow-in-dark neon graffiti splattered on the walls and ceiling.
Liam Murphy, Brand Director for Pernod Ricard UK, comments: "This is one of the largest activations at a UK festival we have ever commissioned for Beefeater and we're delighted with how consumers are enjoying the experience so far. Luno presents All Points East is the perfect place to celebrate The Spirit of London, as it brings together such a diverse mix of talent and festival goers with such a great energy. We have the opportunity to serve Beefeater to 40,000 Londoners in a unique way, whether that be in our cocktails, hero G&T or ready-to-drink cans that can be enjoyed at the main stage. What better way to celebrate The Spirit of London than with the spirit of London?"
To deliver this experience, Beefeater worked with Mixmag on the journey narrative and music – with the playlist also available on Spotify – as well as production specialists Magic Number and experiential agency Bearded Kitten. The activation will run for the full duration of the festival up until Sunday 28th August. To drive social engagement throughout the event, Beefeater is offering guests the chance to win VIP Distillery Tours to consumers that share their experience on social media tagging @beefeatergin #thespiritoflondon.
[1] Based on International Spirits Awards from 2004 to 2021