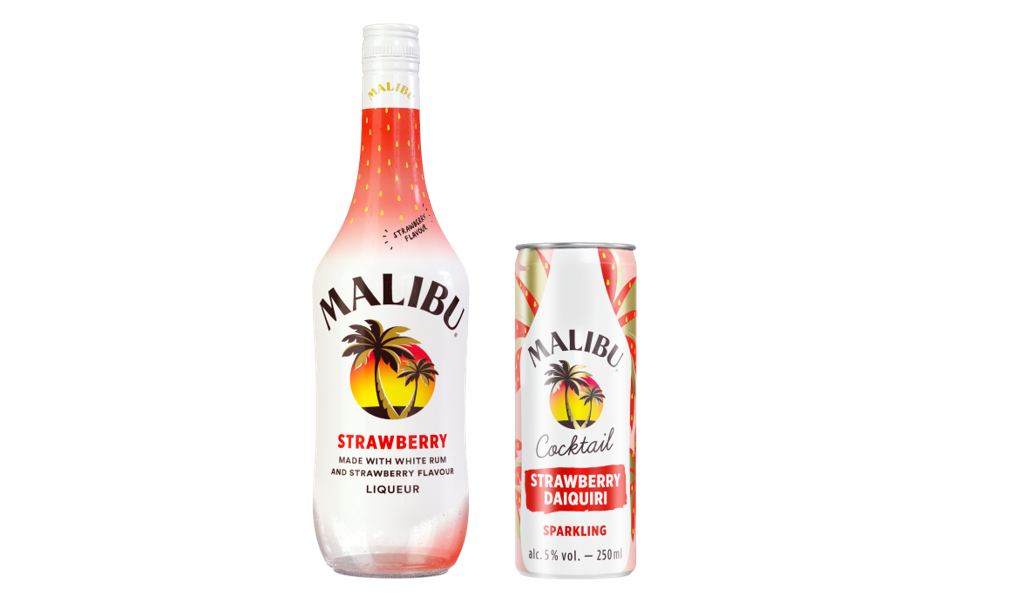 The UK's no. 1 coconut rum brand[1] is adding a juicy new flavour to its core range. Malibu Strawberry will launch in a 70cl format and will be complemented by a Malibu Strawberry Daiquiri ready-to-drink (RTD) 250ml can. The newest members of the Malibu family are introduced as the brand is performing ahead of the total Liqueurs & Specialities category in the Off-Trade[2] and strawberry is the no.1 cocktail flavour preference in the On-Trade[3].
Made with white rum and bursting with strawberry flavour, the new Malibu Strawberry offers the refreshing taste of summer at any time of year and is a sweet switch from the brand's signature coconut taste. Helping fruit-lovers do whatever tastes good, Malibu Strawberry offers endless mixing options. Serve it with lemonade and ice garnished with juicy slices of strawberries for the perfect pour, or try a refreshing Strawberry Daiquiri with zesty lime juice, a splash of sugar syrup and a few smashed strawberries.
The brand has also launched a sparkling new addition to its RTD cocktail range. Malibu Strawberry Daiquiri sees white rum expertly mixed with strawberry and lime and offers a convenient on-the-go serve perfect for at-home cocktails or to enjoy outdoors at festivals, picnics with friends and trips to the beach. Malibu Strawberry Daiquiri joins the wider Malibu RTD range which is growing at +16.7%, more than double the pre-mix can category at +6.8%[4].
Liam Murphy, Brand Director at Pernod Ricard UK, commented: "Flavours have helped us recruit new shoppers into the brand as consumers continue to experiment with new flavour profiles. Strawberry spirit variants over-index with young adult shoppers and remains in high demand in the On-Trade, and the launch of Malibu Strawberry will allow us to continue the flavour momentum. It's the ultimate summer sipper – fruity, fun, and perfect for sharing with friends for that good-vibes-only feeling all year round. We're so excited to add this sweet and refreshing flavour innovation to our existing range."
Malibu Strawberry (21% ABV) has an RRP of £17.19 and is available now from ASDA and Morrisons, and can be found in On-Trade wholesalers including Matthew Clark. Malibu Strawberry Daiquiri RTD (5% ABV) is available at an RRP of £2.40 per can, is available now from Tesco and Sainsbury's. Throughout May it will also be rolling into Morrisons, ASDA and Waitrose. Both SKUs can be purchased from Booker for impulse retailers.