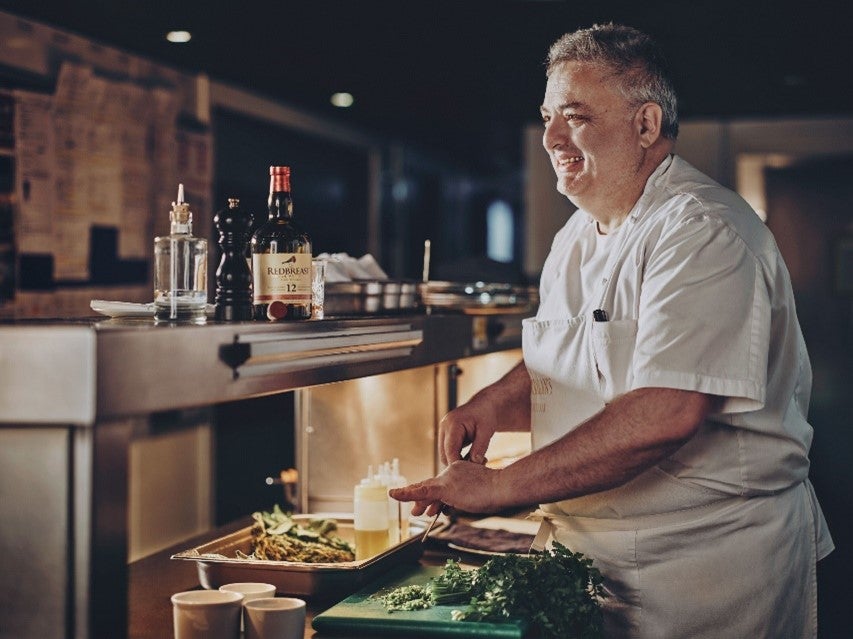 Redbreast Irish Whiskey has today announced a special one off 'Eight Hands' dinner that will see Chef Richard Corrigan collaborate with three of Ireland's brightest culinary exports – Luke Ahearne, Head Chef at Corrigan's of Mayfair, Chris McClurg, Head Chef of No.6 Restaurant and Patrick Powel, Head Chef of Allegra. Taking place on 1st September at Corrigan's Bar and Restaurant, Mayfair, the dinner will celebrate the best of the season's British and Irish produce and herald a coming together of the four chefs' refined yet unpretentious cooking over four courses.
Each of the thoughtfully designed courses has the option of being paired with a specially selected wine or cocktail made from the iconic Redbreast 12-year-old. A special Redbreast drinks menu will also be available at Corrigan's Bar & Restaurant throughout September. Matured in a combination of bourbon and sherry casks, the Redbreast sherry style is considered the definitive expression of the traditional Irish spirit, boasting flavour complexity and the distinctive qualities of Pot Still whiskey.
The special night will also see an auction of Redbreast Dream Cask 29 Year Old Oloroso Sherry Edition (RRP €520), a single pot still Irish whiskey that celebrates the signature Redbreast style and combines innovation, tradition and time-honoured craftsmanship by vatting together four special whiskies, aged for a minimum of 29 years in ex-bourbon, sherry and ruby port seasoned casks. All proceeds from the dinner, auction and Redbreast drinks menu will be donated to The Drinks Trust, a charity that provides care and support to the people who form the drinks industry workforce, both past and present.
Josh McCarthy, Brand Director at Pernod Ricard UK, commented: "We're incredibly excited to be continuing our Redbreast partnership with chef Richard Corrigan. It's been a tough couple of years for the restaurant industry so what better way to celebrate shared passions for producing the best of the best than a collaboration with three of Ireland's brightest culinary exports. We're delighted to bring consumers the 'Eight Hands' dinner and offer a special Redbreast drinks menu. The Irish Whiskey category has grown +17% in the last 12 weeks [1], more than double the rate of Imported Whiskey, demonstrating the popularity of the quintessential Pot still Whiskey style."
The 'Eight Hands' dinner will take place on 1st September at Corrigan's Bar & Restaurant, Mayfair. Tickets are priced at £150 per person, with an optional wine/cocktail pairing for £100 per person, and are available from www.corrigansmayfair.co.uk/eight-hands-dinner.
[1] CGA OPMS | On-Trade Value Sales | L12W to 18.06.22