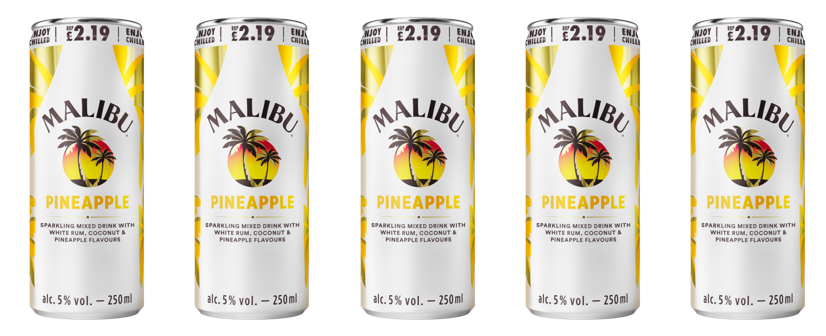 The UK's no. 1 coconut rum brand[1] is adding a new £2.19 price-mark to its Malibu Pineapple ready-to-drink (RTD) format amidst rapid growth of the pre-mix can category (+22% in convenience)[2]. Launching exclusively in the impulse channel, the sparkling mixed drink is expertly made with white rum, coconut and pineapple flavours and offers consumers a convenient on-the-go solution, perfect for great tasting drinks outdoors or at home cocktails.
Pineapple is the 4th most popular flavour in cocktails and is growing YOY, with 30% of consumers choosing pineapple flavoured drinks when out in the On-Trade[3]. In the convenience channel, Malibu Pineapple is the fastest growing spirit mixer can[4], growing at +120% vs. the pre-mixed drink category at +7.6%[5], and the launch of the price-mark-pack (PMP) proposition is set to offer shoppers better value for money as well as add value to convenience retailers.
Chris Shead, Off-Trade Channel Director at Pernod Ricard UK, commented: "The cocktail trend continues and the popularity of RTDs has accelerated as consumers seek out convenient formats. Our new Malibu Pineapple PMP pre-mix can will drive presence in impulse, ensuring further visibility in the 'grab and go' moment. Two thirds of independent retailers are already stocking PMPs as it gives consumers confidence they are being offered good value, and with Malibu seeing +11.1% value growth[6] we're confident that our new PMP will accelerate that even further."
Malibu Pineapple PMP RTD (5% ABV) is available in 12 x 250ml cases at an RRP of £2.19 per can, and throughout February will be rolling into national wholesalers including Dhamecha, HT Drinks, Imperial and Parfetts. It joins the wider Malibu RTD range which includes Malibu Piña Colada and Malibu Cola.