Launching this month the new campaign uses Malfy's mediterranean archway as a portal to the stylish, colourful, convivial Malfy world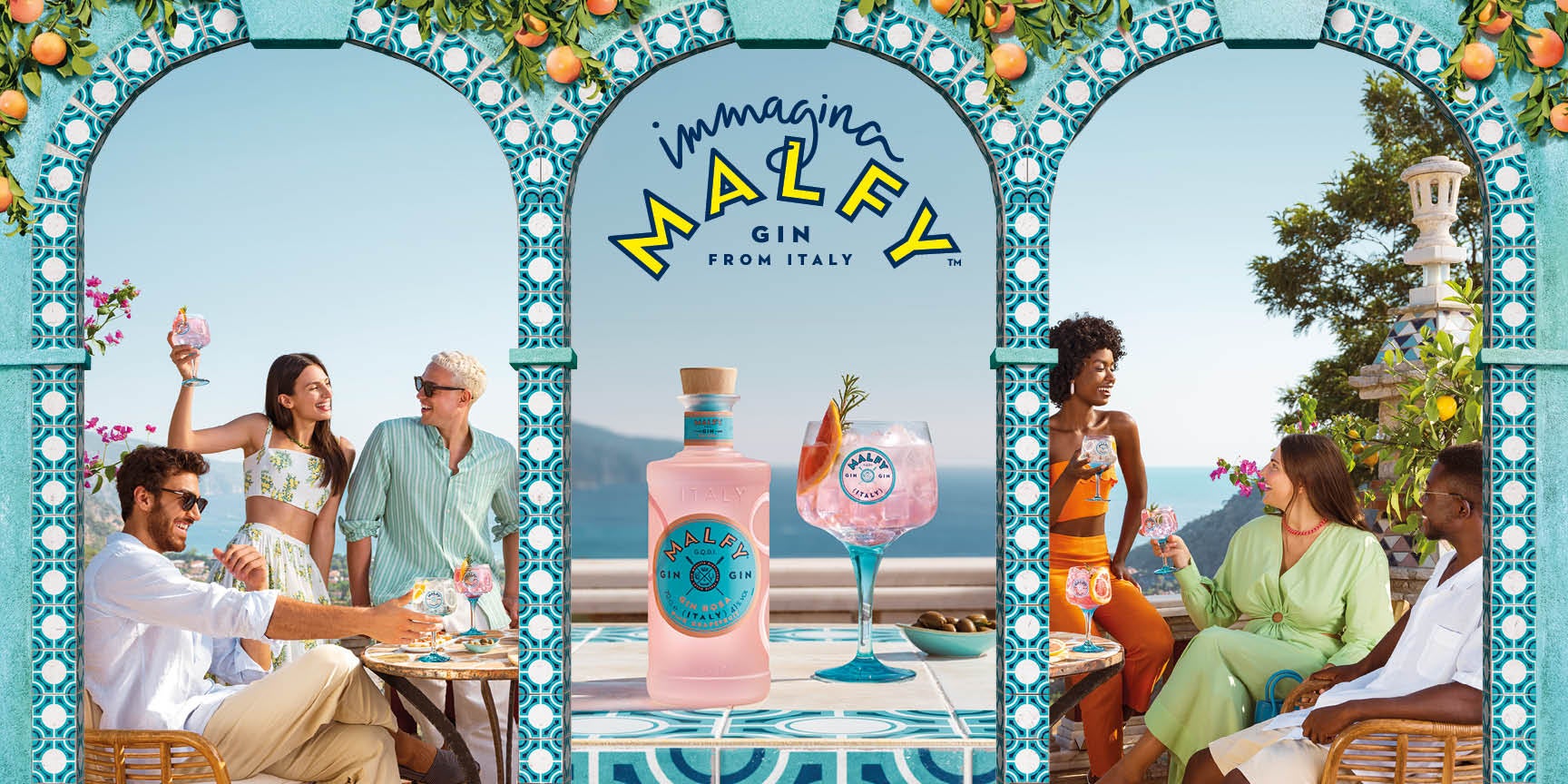 Malfy is launching a new global campaign to confirm its status as a true icon of Italian style. Immagina Malfy broadens its universe beyond the Amalfi coast and to the places its target audience of Stylistos dream of escaping. This first expression of the new campaign platform, which encapsulates the idea you can escape to Malfy wherever you are, is spearheaded by a hero film that sees a stylish protagonist entering the portal into her imagination; the action builds up anticipation to the Malfy Gin & Tonic she is imagining – a sensorial crescendo to the perfect aperitivo.
Immagina Malfy taps into the consumer desire to get away from the monotomy of everyday life and to live La Dolce Vita. The film and supporting assets are colourful, vibrant and sensorial, all inspired by the taste and smell of the botanicals that are used to create the unique taste of Malfy Gin. Effortless and aspirational Italian style oozes from each frame with conviviality at its heart, bringing family and friends together for a shared moment over a Gin & Tonic.
Toni Ingram, Global Brand Director, comments: "Immagina Malfy builds on the strong performance of our previous Ciao Malfy! campaign, which was very successful in terms of driving awareness and establishing Malfy as the gin from Italy. This new campaign has been designed to build more of an emotional connection with Malfy's target audience. We're inviting consumers into the world of Malfy, capturing the feeling through Malfy's personality so that the place feels so real, you can almost taste it. To meet our ambition to become an icon of Italian style, there was a need to elevate and create a distinctive Malfy World that offers endless posibilities for lifestyle content we know our consumers crave."
Malfy is continuing its impressive growth trajectory, driven by strong distribution gains and strong activation, leading the charge in Super-Premium Gin with net sales five times higher than pre-acquisition[1]. With continued stellar growth of +66% in FY22 and now live in over 70 Pernod Ricard markets worldwide, Malfy is performing particularly strongly in its home market of Italy growing +285% in the last year1.
The Immagina Malfy campaign will go live this month in Australia and South Africa on TV, Social, DOOH, OOH and at the last three feet, before rolling out to further markets in Spring next year, including the UK, Italy and Germany.
[1] PRISMA FY22 Full Year Sales & Results