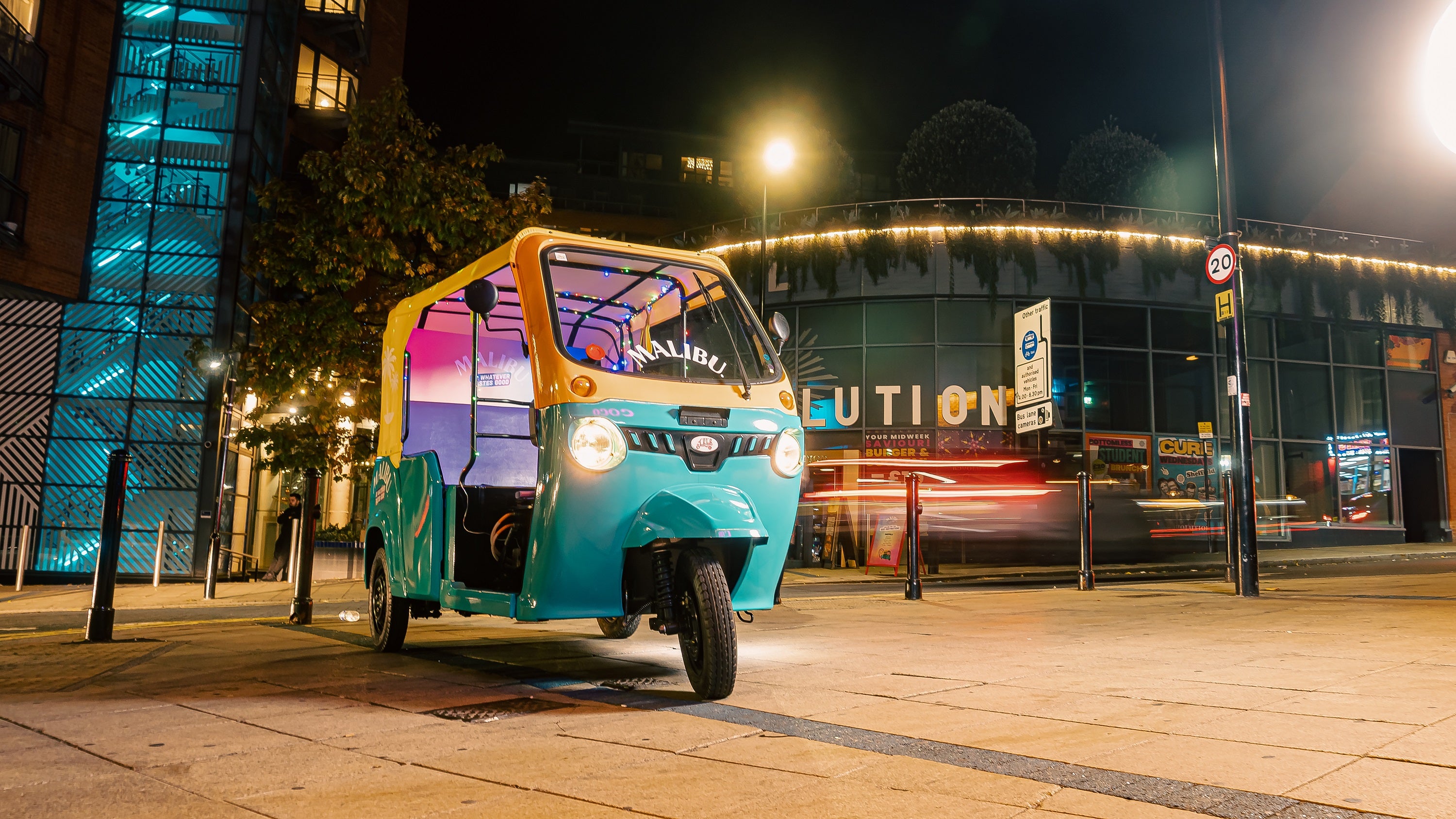 Malibu, the UK's no.1 coconut rum brand [1], is looking to maximise fun whilst keeping university students safe by calling for #GoodVibesOnly. The campaign will see the brand provide thousands of discounted Uber rides, as well as branded TukTuks in four UK cities, to help freshers travel home safely. Malibu is also partnering with TV stars Joey Essex and Olivia Attwood to spread awareness of the campaign.
New research [2] commissioned by Malibu reveals that staying safe on a night out is a key priority for almost three quarters (73 percent) of 18-25 year olds, with nine in ten of the young women polled claiming that they'd been made to feel vulnerable. To help increase safety for students and keep the good vibes going, Malibu has secured 11,000 £10 Uber discount vouchers for students, as well as putting on Malibu Tuk Tuks to get freshers home from Revolution bars in Newcastle, Sheffield, Cardiff, and Liverpool. Free coconut water will also be available from select Popworld bars to keep students hydrated.
Malibu's ethos centres around 'Doing Whatever Tastes Good', living in the moment and enjoying life to its fullest, but at the same time feeling comfortable and being safe, whilst having fun. The brand is teaming up with Good Night Out, the campaign for safer nightlife, to train ambassadors from Revolution bars on preventing sexual harassment and assault on nights out, to continue the brand's mission beyond Freshers week and ensure everyone can enjoy #GoodVibesOnly from start to finish.
Fun-loving celebrities, Joey Essex and Olivia Attwood, will also be supporting the campaign by calling on everyone to keep freshers safe on nights out as they start university life. The duo are launching Malibu's #GoodVibesOnly Awards to reward those who go the extra mile in making sure their crew are supported on a night out. Students can nominate their friends via the Malibu Instagram page @maliburumuk, for a chance to enjoy a fun night out with their friends, and be picked up and dropped off in a limousine in true 'A-lister' style.
Joey Essex commented: "There's nothing more I enjoy than a night out with friends, and when Malibu came calling to ask Olivia and I to be part of its Mali-crew we jumped at the chance. It's so important for uni students to stay safe as they enjoy nights out, and it's brilliant to see Malibu shining a light on safety through its #GoodVibesOnly campaign."
Liam Murphy, Brand Director at Pernod Ricard UK, said: "This year, we wanted to shine a light on how students can enjoy #GoodVibesOnly, as they start their university lives. As the brand which encourages people to 'Do Whatever Tastes Good', we're all about living life in a way that makes you happy. A key part of feeling good is undoubtedly keeping safe and feeling comfortable in what you're doing, which is why Malibu has launched this campaign – to give students the means to keep themselves, and others, safe whilst still maximising the fun."