Launching this week, this latest burst includes a cutting-edge, digital-first takeover in East-London, which combines 3D advertising and Snapchat AR technology to immerse consumers into a refreshing, multi-dimensional world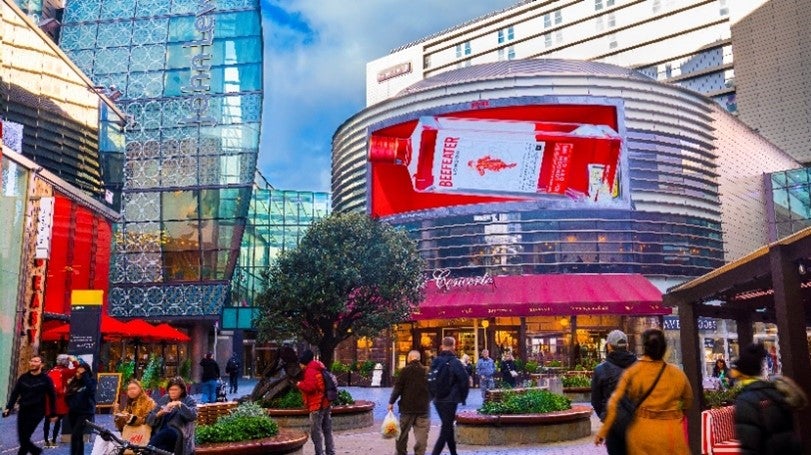 Beefeater, the World's Most Awarded Gin[1], is cutting through the Black Friday chaos by enhancing its 'The Spirit of London' campaign through innovative media, launching a dynamic 3D billboard, created by McCann and Craft, in one of the busiest shopping areas in London. The disruptive activation uses 'Deep Screen' technology, which is forecast to achieve 15% higher attention than traditional 2D content, by plunging consumers into an unmissable, visceral experience of The Spirit of London.
A Snap code, visible on the billboard situated at Four Dials, Stratford, explodes a hovering Big Ben and Beefeater London Dry Gin bottle into the skyline and to drive engagment, those sharing the AR experience on their own social media channels will be eligible to redeem a free Beefeater & Tonic at local venue, Bat & Ball. The bespoke Snap lens, created by digital experience agency UNIT9,  is also available worldwide and activates on any skyline with paid support being put behind key UK cities to kickstart the campaign.
From this Friday, the billboard will be live for seven days, reaching over two million Urban Explorers alonsige the Snap lens. Marking the beginning of a multi-million-pound cash injection into The Spirit of London, the campaign includes TV, OOH, DOOH and Social in over 23 markets worldwide between now and the end of gin-season next Spring. Brazil kicked things off with a takeover of the Primavera Sound Festival, which included The Spirit of London playing throughout the festival, including the main stage big screens, as well as TV and digital amplification running simultaneously.
Murielle Dessenis, Global Brand Director, comments: "It is so exciting to see The Spirit of London digital-first consumer engagement platform grow bigger, better and more advanced each year around the world. With this latest launch, we enhanced the core campaign idea through a disruptive, immersive media approach and new digital interface. We are super proud as a team to have combined a captivating media experience with augmented reality engagement, a winning combination designed to engage our audience."
The investment in The Spirit of London platform follows Beefeater's recent collaboration with East London-based artist Lakwena, which catapulted the brand in to the lives of Urban Explorers through a limited-edition bottle and pop-up gallery in Shoreditch, which showcased effervescent portraits of a collective of nine creatives who embody The Spirit of London. The collective includes like-minded people from different disciplines including art, dance, and food and drink, from across the capital showcasing the best of London's globally renowned culture. The portraits have since been given a new home at the Beefeater Distillery, Kennington (recent winner of the 'World Travel Awards'  'World's Leading Gin Distillery Tour Award' where visitors can enjoy the gallery as part of the Beefeater Gin Distillery Tour package.
[1] Based on International Spirits Awards from 2004 to 2021