Beefeater elevates its signature house style and launches an Ultra-Premium Gin at the pinnacle of its portfolio, with clarity of flavour and unmistakeable depth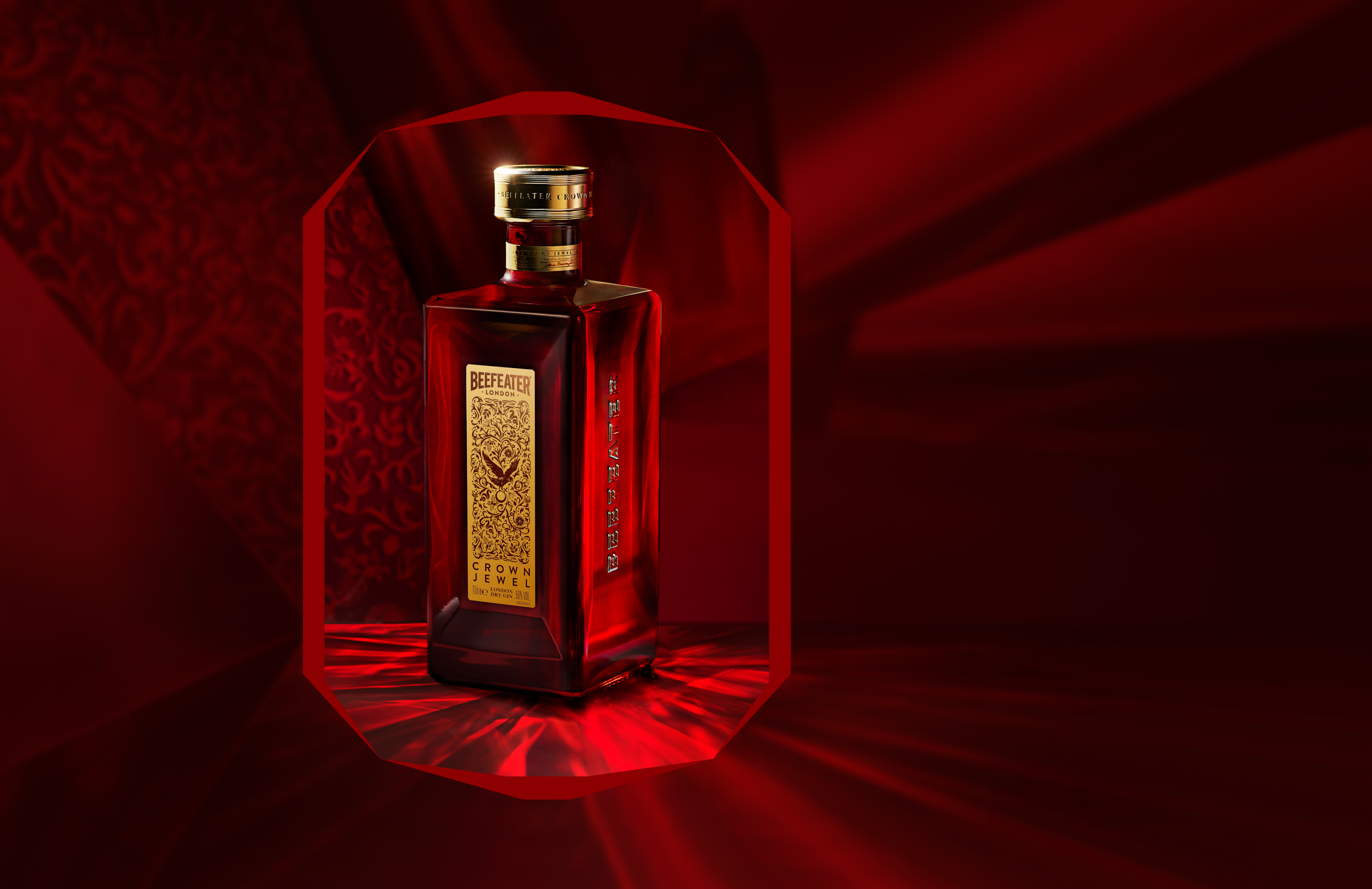 Beefeater, the World's Most Awarded Gin[1], is reinventing tradition and luxury within the gin category by unveiling Beefeater Crown Jewel, the pinnacle of the brand's London Dry Gin portfolio. Inspired by the iconic jewels housed in the Tower of London, this modern re-imagining of a rare gem embodies London's timeless spirit.
Having previously been available as a limited-edition nearly 20 years ago, Beefeater Crown Jewel's liquid is treasured by bartenders worldwide and is an elevated version of Beefeater's iconic London Dry Gin recipe with a boldly heightened 50% ABV. This strength captures the additional citrus notes from grapefruit peel, which is added to Beefeater's iconic nine botanical recipe. Beefeater Crown Jewel is perfectly balanced with clarity of flavour and unmistakeable depth.
Housed in a brand new ruby-inspired bottle, drawing inspiration from the cuts of precious Crown Jewels at the Tower of London, the versatile liquid delivers an expression that is multi-faceted in its appearance and possibilities. The packaging design also pays tribute to Beefeater's London heritage by incorporating the brick design element, bringing consistency with the rest of the Beefeater range.
Ahead of the launch, Beefeater Crown Jewel secured seven medals at the latest international spirit competitions, including a Double-Gold at the International Spirits Challenge 2022, Gold at the San Fransisco Wine & Spirits Competiton 2022, Gold at the International Wine & Spirits Competition 2022 and Gold at the World Gin Awards 2022.
Demond Payne MBE, Master Distiller for Beefeater, comments: "As an elevated expression of our house style, Beefeater Crown Jewel is one of my favourites within the portfolio due to its full, rounded and encompassing aroma and bartenders have been banging our door down to bring it back. To taste, you get fresh grapefruit-led citrus leading to the bolder kick of classic juniper at the crown. A long progression of warm spices and a hint of liquorice sweetness finish with a reminder of deeper citrus notes. The botanicals are beautifully balanced providing a long, complex flavours that excite the palate through to the finish. The higher alcohol strength of 50% ABV supports and lifts the delivery of the 10 botanicals."
Murielle Dessenis, Global Brand Director, comments: "Beefeater Crown Jewel provides those looking for reassurance and status from established international brands with something extra special from Beefeater, the World's Most Awarded Gin1. By 2024, one in every three bottles of Premium+ Gin will be Super-Premium+[2] and it therefore made sense for us to consider bringing back our Ultra-Premium Gin from our archives that had previously been so well received by world renowned bartenders and connoisseurs. Beefeater's most guarded gem is now reborn into a modern icon. The crème de la crème of London Dry Gin is back."
Beefeater Crown Jewel will be available from 11th November in 16 countries. Keep an eye out for further launch details, including how this Ultra-Premium classic London Dry Gin will explode onto digital channels and reinvent the meaning of luxury within the world of gin.