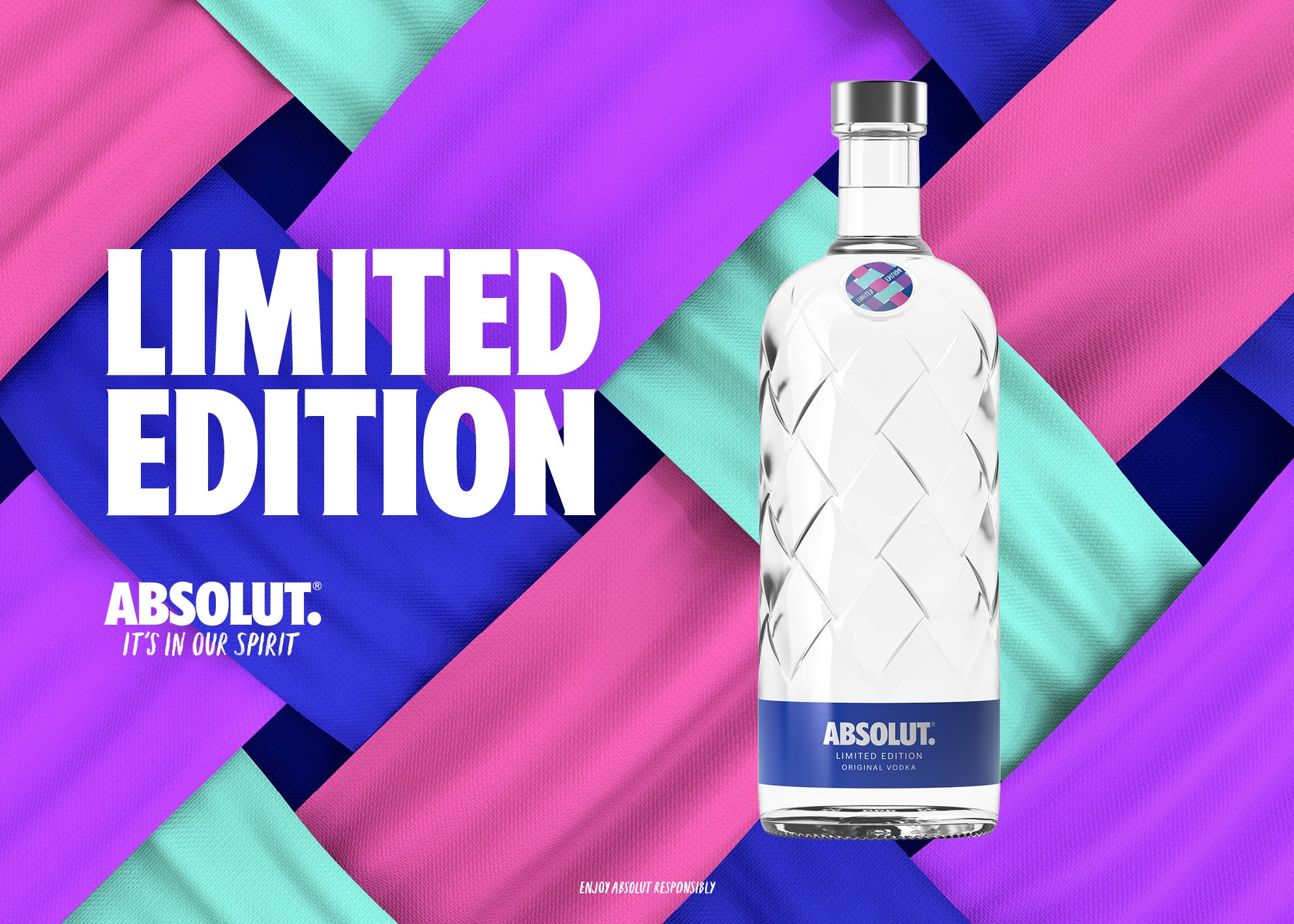 Absolut, the UK's No.1 premium vodka[1], has revealed its latest limited-edition bottle, encapsulating the brand's ethos that incredible things can be achieved when people come together and mix beyond their differences. Available from 1st February, the Absolut bottle is made with more than 50% recycled glass, just like all Absolut bottles.
The unique woven fabric design of the bottle is a re-imagined visual representation of the premium vodka brand's attributes of creativity, culture and community, and embodies Absolut's core belief that when diverse people mix and connect, they can form a stronger bond and drive progress. The new limited-edition succeeds last year's bottle, Absolut Voices, which celebrated the wavemakers and trailblazers of the world.
Liam Murphy, Brand Director at Pernod Ricard UK, commented: "Championing each other's differences has always been in our spirit and our new limited-edition design encapsulates the power of unity to show how mixing the world's diverse threads together can break conventions and make us stronger. In celebration of the new bottle, we're also excited to launch The Absolut Swap Shop to inspire people to mix their love of retail with ideas of progress and a better future, and make a statement about best fashion practices."
Inspired by the woven fabric design of the limited-edition bottle, the Vodka brand will open The Absolut Swap Shop to consumers on 9th February – a pre-loved fashion pop-up destination which aims to bring the capital's fashion forward together for a more sustainable future. Curated by three influential changemakers: fashion stylist Harry Lambert; fair fashion campaigner Venetia La Manna; and body positivity activist Nyome Nicholas-Williams, the trio are mixing their different perspectives on sustainable fashion with the aim to inspire sustainable behaviour changes. The Absolut Swap Shop will offer a diverse range of garments and visitors need to bring just one item of clothing to exchange on-site. No cash. No card. Just mix, swap, share. Shoppers can secure their swapping spot via Eventbrite. To discover more about The Swap Shop visit: www.absolut.com/uk/borntomix_leb
Vodka remains the No.1 spirit in the Off-Trade and Absolut holds a majority 57.6% share in the Premium Vodka category[2]. The new limited-edition 70cl bottle will be available from all major grocers (RRP £21) and in a 1L format (RRP £25.50) from Amazon and Costco. In-store activity will include shippers, aisle flags, shelf barkers, as well as pallet wraps in Costco.