Ballantine's z serią imprez gamingowych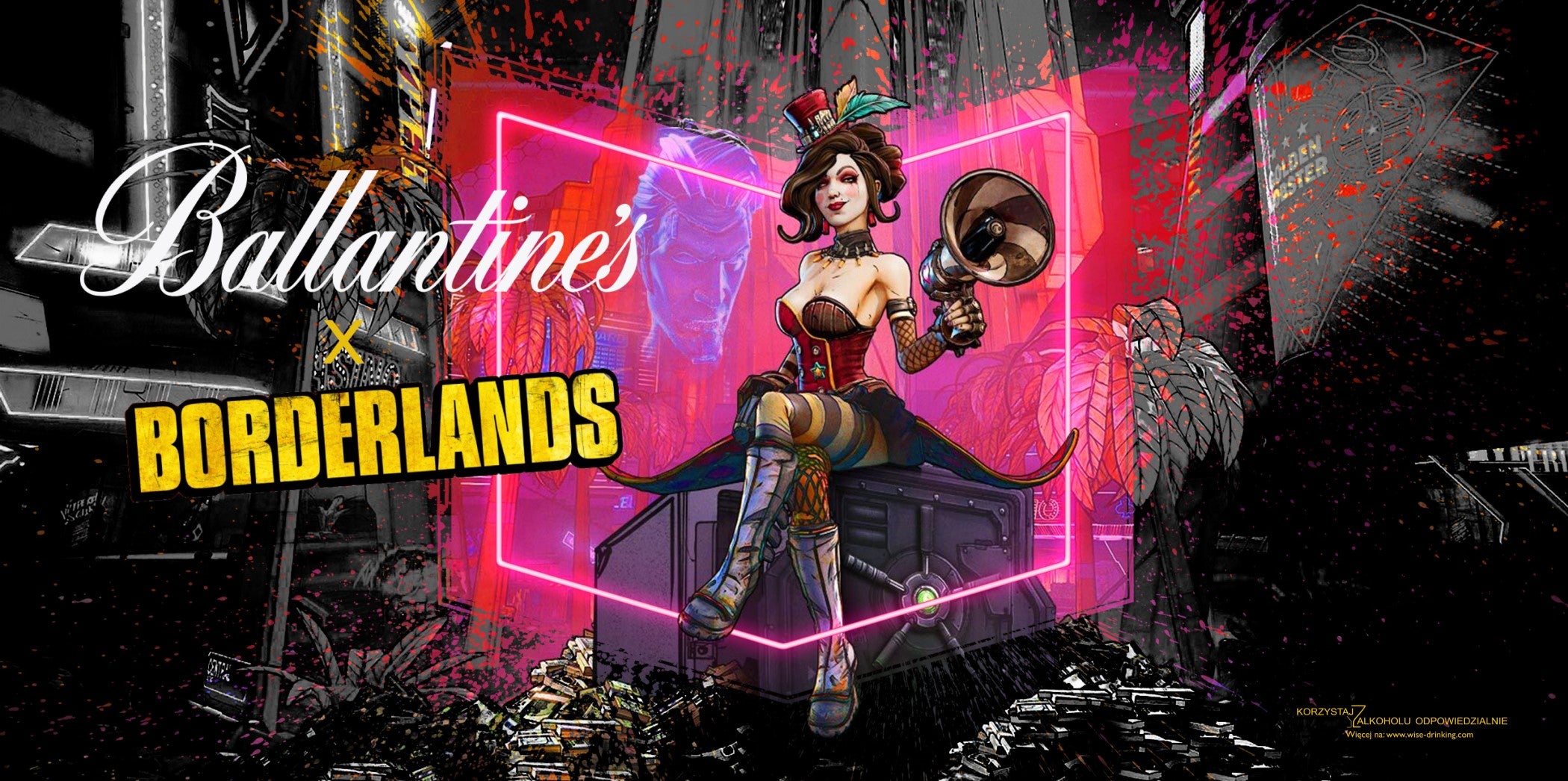 Ballantine's, producent jednej z najpopularniejszych szkockich whisky na świecie, kontynuuje swoją międzyplanetarną ekspansję we współpracy z potentatką biznesową z Pandory – Mad Moxxi. Rozpoczęta w ubiegłym roku, globalna współpraca marki z grą Borderlands 3, wchodzi obecnie w nową fazę dzięki serii imprez organizowanych dla fanów e-sportu.
Wspólna kampania skierowana przede wszystkim do wielbicieli gamingu zaczęła się w maju 2022 od wprowadzenia na rynek limitowanej edycji Ballantine's x Moxxi's Bar Edition, a także prezentując wyjątkową zapowiedź wideo wykonanego w charakterystycznej dla serii technice cel shading.
Wieczorne spotkania z Moxxi
Marka Ballantine 's przygotowała serię spotkań podczas których gra staję się rzeczywistością. W ubiegły weekend, 12 maja w Gdańskiej Cybermachinie, odbyła się pierwsza w tym roku impreza, w której gwiazdą wieczoru był bar Moxxi inspirowany grą z post apokaliptycznej Pandory. Chętni mogli też spróbować swoich sił w grze Borderlands 3. Co więcej, na miejscu można była spotkać wyjątkowych gości ze świata streamingu na Twitch.tv, w tym ŁosiuGra czy Brunecię.
Wybrane zdjęcia dostępne: POD TYM ADRESEM.
Oczywiście za barem nie mogło zabraknąć głównej bohaterki kampanii - Mad Moxxi. W rolę intergalaktycznej barmanki wcieliła się jedna z najbardziej rozpoznawalnych polskich artystek, zajmujących się m.in. cosplayem, śpiewem i szeroko rozumianym gamingiem - Wonder. Na imprezie można było spotkać także Violet Cosplay w roli Psycho – jednego z ikonicznych przeciwników w serii gier Borderlands.
To jednak dopiero początek wspólnej, gamingowej zabawy z Borderlands i Ballantine's.
Już 26 maja, w Cybermachinie w Katowicach odbędzie się kolejna edycja imprezy. Uczestnicy będą mogli osobiście spotkać się z Mad Moxxi, która wcieli się w rolę gospodyni tego wydarzania i zaprosi obecnych gości m.in. do swojego baru. Po raz kolejny, będzie można również zobaczyć się z ŁosiuGra, Kromka i Kycu,. Na miejscu nie zabraknie wyjątkowych koktajli, sesji gamingowych oraz wielu innych atrakcji. Wstęp na imprezę od godziny 18:00, tylko dla osób pełnoletnich.
Film Mad Moxxi: Moxxi's Bar Edition - Ballantine's x Borderlands (ballantines.com)
Dodatkowy kontakt dla mediów:
Jakub Dąbrówka
Jakub.dabrowka@mondaygroup.pl
Tel.: 694 921 188
Zuzanna Baranowska-Drzazga
Zuzanna.Baranowska@pernod-ricard.com
Tel.: 696 477 350
Więcej o marce Ballantine's:
Ballantine's to whisky typu blended, w której skład wchodzi ponad 40 rodzajów szkockich whisky z 4 regionów Szkocji: Speyside, Highlands, Islay oraz Lowlands. Na jej charakter szczególnie wpływają whisky słodowe powstające w jednej z najstarszych destylarni w regionie Speyside, a mianowicie Glenburgie nadającej mieszance smak jabłek i gruszek. Miltonduff – kolejna destylarnia uzupełnia Ballantine's o nuty kwiatowe, ziołowe oraz dodaje delikatną nutę wanilii. Z kolei malt whisky powstające w destylarni Scapa nadają jej kremową słodycz. Charakterystyczny styl whisky Ballantine's można określić jako elegancki, wyważony, delikatny i słodki. Przyczynia się do tego fakt, że Ballantine's dojrzewa tylko i wyłącznie w dębowych beczkach po burbonie. Nad jakością w każdej fazie procesu wytwarzania whisky, poczynając od zbioru zboża, a na gotowym trunku kończąc, czuwa Master Blender – Sandy Hyslop. Stanowi on pieczę nad idealną kompozycją whisky słodowych i zbożowych, tak aby stworzyć dzieło, które wyróżnia aromaty i nadać im odpowiednią harmonię.
http://www.ballantines.pl
www.ballantines.com
Ballantine's on Facebook