W najnowszej odsłonie kampanii "Tak To Robię" marka Ballantine's zachęca do podążania własną drogą i kultywowania indywidualności, a wtórują jej w tym: niepokorny rapowy duet PRO8L3M oraz jedna z najbardziej wyrazistych artystek sceny muzycznej - Brodka. Efektem ich wspólnych działań jest wyjątkowy teledysk do utworu "Żar" (Tak To Robię).
Ballantine's poprzez projekt "Tak To Robię" udowadnia, że można żyć w zgodzie ze sobą, odnosić sukcesy na polu prywatnym i zawodowym, nie zważając na oczekiwania innych. Podążanie utartymi szlakami? Niekoniecznie. W ramach big idea "Tak To Robię", marka realizuje jeden z głównych celów komunikacyjnych: wparcie i inspirowanie młodych, ambitnych ludzi, którzy nie boją się iść własną drogą z pełną świadomością, że nie ma jednego, właściwego sposobu na udane życie. Najważniejsze, to być wiernym sobie.
W ciągu ostatnich lat Ballantine's nie raz podkreślał w swoich komunikatach - "Stay True"! Tym razem jednak, stawia na autentyczność nie tylko w przekazie, ale także na płaszczyźnie produkcji wideo. W zrealizowanym przez duet Andiamo i dom produkcyjny SHOOTME teledysku do utworu "Żar" (Tak To Robię), nie zobaczymy fikcyjnych postaci. Autorzy wideo postawili na prawdziwych ludzi, wykonują-cych z pasją przeróżne profesje: nauczycielka muzyki dla niesłyszących, kucharz z libańskiego bistro, tancerka vogue, artysta malarz, zaklinacz koni, ogrodniczka z jednej z największych szklarni w tej czę-ści Europy. Sześć osobowości i sześć opowieści o niezależności, w których rutyna miesza się z este-tyką snu. Teledysk uzupełniają trzy wideo dokumentalne przygotowane przez Filipa Skrońca. Te auten-tyczne historie, sprawiają, że projekt " Tak To Robię" staje się jeszcze bardziej wyjątkowy. A gdy do-damy do tego oprawę muzyczną, niezwykle utalentowanych artystów Brodki i PRO8L3MU, mamy do-kładnie to, co specjaliści od szkockiego blended lubią najbardziej: wyrazisty przekaz, pozostawanie sobą i dobrą muzykę.
To, co wyróżnia tę odsłonę kampanii "Tak To Robię", to przede wszystkim udział niezwykłych artystów. Zależało nam na kontynuacji komunikacji w duchu autentyczności, ale tym razem chcieliśmy przygoto-wać coś zupełnie nieoczekiwanego. Dlatego bardzo cieszymy, że Brodka i PRO8L3M przyjęli nasze za-proszenie i współtworzyli z nami ten projekt. W DNA marki Ballantine's mamy mocno zakorzenioną au-tentyczność, prawdę, jesteśmy blisko świata artystycznego. Dlatego nie mieliśmy wątpliwości, że ten teledysk będzie emanacją naszych wartości. Zaprezentowana przez Andiamo, wolność wypowiadania się w formie dokumentacyjnej, dodatkowo podbija komunikat, że pozostawanie wiernemu sobie, pozby-cie się z barków ciężaru oczekiwań, daje wolność i największą satysfakcję. I dokładnie o to nam chodzi-ło! Bo jak lepiej pokazać prawdę w podążaniu własną drogą i odrzuceniu presji społecznych, jak nie po-przez prawdziwe historie.

Marcin Zalewski, Senior Brand Manager Ballantine's Polska
Działania marki w ramach kampanii "Tak To Robię" na tym etapie się nie kończą. Na specjalnie przy-gotowanej stronie taktorobie.net można obejrzeć teledysk, marka planuje umieszczać tam także in-formacje na temat aktywacji i kolejnych działań podejmowanych pod szyldem tego projektu. Szczegóły Ballatine's będzie także stopniowo komunikował na swoich profilach w mediach społecz-nościowych: Instagram i Facebook. Kampania promocyjna będzie trwała do połowy 2021 roku.
Za strategię i koncept kreatywny odpowiada agencja VMLY&R, a za komunikację PR agencja Skills Warsaw. Teledysk do utworu "Żar" (Tak To Robię) PRO8L3Mu i Brodki, został wyprodukowany przez SHOOTME we współpracy z duetem reżyserskim Andiamo. Wideo zostałe zarejestrowane taśmie fil-mowej ARRI SR3 16mm. Teledysk można obejrzeć w serwisie YouTube pod tym linkiem.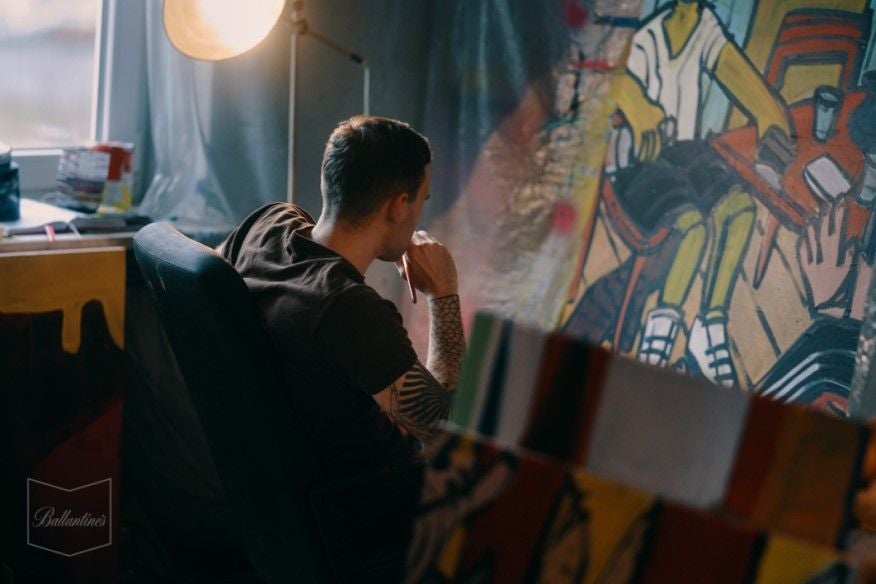 KONTAKT DLA MEDIÓW:
Anna Staszewska
anna.staszewska@pernod-ricard.com
Patrycja Bielańska 
p.bielanska@skillswarsaw.pl